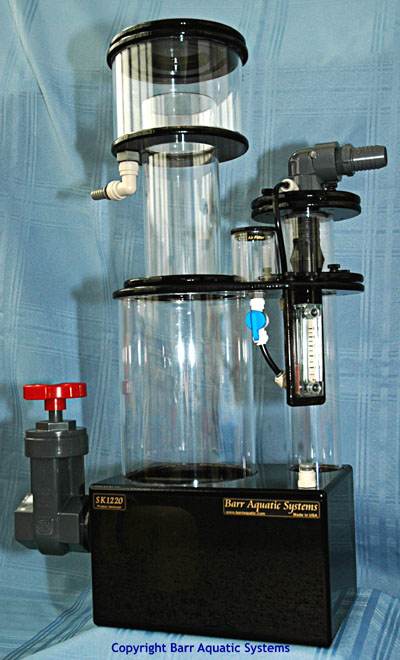 Standard Skimmers:
This line of skimmers is custom designed for systems with a capacity of 50-500 gallons. Of course you can run them on a smaller system too, especially if you plan to upgrade your tank in the future.
Easy Maintenance- An amazing all acrylic twist-lock system makes these skimmers unique in the world. Just grab the neck and twist it less than a quarter turn. The special ramps release their water-tight seal and the collection cup can be removed. Needs less than 1/2" clearance to remove. Extremely neat and easy, nothing else can compare. Standard on all skimmers, no $40 extra cost unions here. The Beckett chamber still has key holes and thumb screws to be certain it stays secure during cleaning and general tank maintenance. No removing the pump line just to clean the cup.
The full height injection tube reduces the head pressure that the pump sees for better foam production, and has more than double the contact time than the competition. More contact time equals better performance! Don't settle for a skimmer with 4" of contact distance.
The optional flow meter kit is a great accessory. At a glance you can tell how the skimmer is performing. It will read up to 45 SCFH (Standard Cubic Feet of air per Hour) with a Sequence 3600 pump. If you see the air flow rate change, you know you need to check the pump intake or possibly the Beckett for cleaning. Get instant feedback and precise, repeatable control!
Features:
Tank Capacity: 50-500+ gallons total water volume
6" cast acrylic tube on all models
2.5" injection tube for the best flow
Easy-Off twist lock flange for the collection cup base and lid
Large capacity Air filter/Silencer standard on all units
Ozone port standard (supplied with a plug)
CO2 reactor input port (supplied with a plug)
Precision John Guest ball valve for easy air control
O-Ring seals
Comes apart easily for cleaning
3/8" thick translucent black acrylic flanges and mixing box for strength and beauty
1" NPT or hose barb input
1.5" NPT output
1.5" Gate valve included for ultra-fine water level control
1/2" Hose barb for collection cup effluent
Requires a waste collector, 2 liter bottle or jug for skimmer effluent
Flow meter kit shown is optional
Dimensions at the base (gate valve not included):
SK1020: 21" high x 7" x 10" (50-100 gallon systems)
SK1220: 26" high x 7" x 10" (75-180 gallon systems)
SK1620: 32" high x 7" x 10" (100-250 gallon systems)
Maximum outside dimension is at the main flange, and is 8" x 11" (gate valve adds 4" more, plus another 1-2" for the water to exit the gate valve).
Skimmer ratings depend on your bio load and how the skimmer is plumbed. Please contact us to help you pick a skimmer size that matches your system and growth plans.
Requires a pump that can put out 700+ GPH such as a Sequence 3600, Little Giant 4MDSC, Iwaki 55 or Mag 12 or 18. Best performance is realized at around 800+ GPH, giving an air flow of 45+ SCFH (Standard Cubic Feet of air per Hour).
Breaks down quickly for cleaning. Normally the Beckett does not need to be cleaned, but the collection cup should be cleaned every few weeks for best performance.
See the instructions page on the for setup tips.
Options:
Single flow meter kit and mounting bracket, 0-50 SCFH: $50
Banjo quick disconnect
Waste Collector: Recommended WC120/WC220
---
© 2004-2018 Barr Aquatic Systems. All Rights Reserved