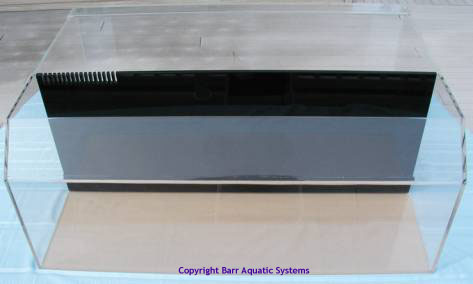 Barr Aquatic Systems is dedicated to providing quality equipment at a fair price. We use the latest 3D modeling tools to develop our products, backed by hands-on testing on real reef tanks. All of our equipment has been individually tested and approved by reef enthusiasts.
Reduced price! The following units are either in stock, or can be made to ship in a week or two. Please email for a full quote with shipping charges to your zip code:
KR1020: $249
KR1220: $299
WC120: $75
WC220: $95
WC320: $125
Special order: One overflow box with teeth on three sides, approx. 12"L x 8"W x 6"H. Special price: $99. (One only.)
OEM Builder Wanted! Since my partnership with Austin Oceans failed to prosper (they appear to be out of business), I am looking for a person or small company that would like to OEM my designs. The builder would purchases kits that include all the CNC parts from Barr Aquatic Systems, add the tube and plumbing fittings, assemble, test and ship to their own customers. I would provide the CNC parts only, as well as technical assistance on assembly, and with customer concerns.
Training at my site is available as well as written and video instructions on assembly. Do not know how to work with acrylic yet? I can help! All my current designs are available, as well as some new designs that have not yet been seen. Sump design and building can also be taught. All class work would occur at my shop in Spokane, Washington. For more details, please contact me.
Support Bulletin Board: Please visit the Message Board for online support requests. Feel free to post pictures of your systems too.
Quality:
I've run in to products from other companies that are not up to our standards of quality, yet cost the same or even more. If you are considering other brands ask these questions:
Are twist-lock flanges included, or even available?
Do they counter sink every tube glue joint for strength?
Do they use 3/8" cast acrylic on all flanges, or go with cheaper 1/4"?
Do they use cheap white PVC fittings, or heavy duty SCH-80 fittings?
Is the Beckett injector secure yet easily removable, or is it simply wedged in to a piece of pipe?
Do they use 1" input plumbing, or 3/4" (or even 1/2"!)
Is the gate valve threaded on both sides, or is it glued to the box (not replaceable or cleanable)?
Does it even have a gate valve?
Can you break it fully down for cleaning (no blocked chambers)?
If the answers to all the above are not YES, then you are not getting what you paid for. Many places claim to be high quality, but very few of them truly understand the term. Check in to their claims. You will not be able to find a higher quality design than a Barr Aquatics design.
DIY Threads section. This lists my threads on Reef Central, and I'll transfer over my write-ups in to this section as time allows.
---
© 2010 Barr Aquatic Systems. All Rights Reserved